See the Finger Lakes in a Whole New Way!
FlytheFingerLakes.com is about bringing YOU and a local aircraft operator together.
The Finger Lakes in New York State are a great place to visit! With its clear lakes, award-winning wineries, rolling green hills and friendly people, there may be no better place on earth to vacation. And one of the best ways to see the Finger Lakes region is from the air...well around 3,500 ft actually!

Ever Want to Fly Over the Finger Lakes?
Nothing beats the excitement of flying. For groups of 3 people or less smaller 4-seat aircraft are used like the one shown in the photo to the right for scenic airplane rides or introductory flights. This means you and up to two of your friends can enjoy the view with few restrictions accept for weight and balance.
These flights can be customized to fit your needs, whether it's a flight to see your house from the air or one or all of the Finger Lakes!
Flight costs are determined by the operators.
All flights are subject to change due to weather and FAA regulations.
All flights are at the sole discretion of the operator.
Ask your operator for complete details when you are contacted.
Current departure airports are: Canandaigua Airport & Corning-Painted Post Airport
Interested? If so, please complete the form below. You will be contacted via email or phone by the operator from the airport location you select concerning your interest to Fly the Finger Lakes!
Note: We connect you (at no charge) with a local operator who offers scenic airplane rides and introductory flights for aspiring pilots or those who just want to enjoy the experience of flight. We do not operate aircraft nor are we responsible for the safe operations of any aircraft at anytime; that is the sole responsibility of the operator.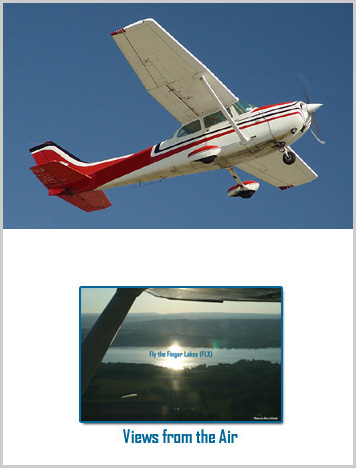 If you are an operator, a flight school, or flying club and wish to participate, please click here to contact us today about advertising your business on this site. Only $99.00 year gets you a banner like the one above and a link to your site.

Aviation Events
Click Here to Check the Upstate List

This site is provided as a public service to encourage the growth of general aviation. If you wish to donate to help with it's promotion, please click here to contact us.